Part two of and interview with Dr. Debra Ravasia, an American Board of Obesity Medicine (ABOM) Diplomate, answering questions regarding the importance of an obesity medicine physician. View part one
Have you had the experience of working with a bariatric surgeon?
Not in a formal multidisciplinary surgical bariatric practice.
I have had the experience of working less directly with a few different bariatric surgeons in my community, although I continue to maintain an independent primary care practice, since the majority of our patients are managed medically with good success.  Thus much of my interaction consists of recognizing and selecting appropriate candidates, counseling, advocating, referring and carefully following up afterwards for the long term.  I walk a line of making sure that the patient has had an adequate trial of medical management (which is successful most of the time), but knowing when to switch gears, in the unusual case where medical obesity protocols are not working well for an individual patient and encouraging patients to pursue surgical treatments vs traditional "expectant" management, since the natural history of obesity and other metabolic disease is to continue to get worse if not proactively managed.  In these cases, I find that there are a lot of irrational fears and misunderstandings about how and why metabolic surgeries work, and that I can alleviate a lot of the apprehension that patients have.
Are there any clinical findings or evidence based research supporting the value of obesity medicine physicians and bariatric surgeons working together?
Most of the literature I am aware of that discusses both medical and surgical management in the same paper are "either/or" comparisons, or are simply "professional opinion".  I am aware of several studies comparing bariatric surgical management to "typical" medical management, concluding correctly that surgical outcomes are better in this circumstance.  I am not aware of any studies that compare surgical outcomes to medical outcomes in the hands of well trained experienced obesity physicians using aggressive obesity protocols, but I suspect that if there were, the differences between surgical and medical management would be much less dramatic, since many obesity physicians manage this disease very differently than is described in "traditional" medicine.  Specifically, traditional medical management is typically focused on "overeating" and "underexercising" as causes rather than results of dysfunctional regulation of fat storage, and tries to alter these behaviors as part of the treatment rather than targeting the underlying hormonal mechanisms that results in these behaviors.
There is literature describing fairly dramatic lean body mass loss after bariatric surgery (15 to 45% by DXA, depending on the study).  Obesity medical protocols managed by obesity medicine physicians can result in overall lean body mass loss of less than 10% with a proportionately much larger fat loss, particularly visceral fat loss, on DXA studies.  Such medical obesity protocols show similar amounts of overall weight loss (20% of overall body weight) as has been described in bariatric surgery.    The suggestion being that if a bariatric surgeon were working with an obesity medicine physician who used those type of obesity protocols in the first few post-operative years, the surgical outcomes might be considerably better, in terms of actual body composition change.  Since loss of lean body mass is associated with adverse outcomes such falls, fatigue and frailty, and loss of visceral fat is associated with positive outcomes such as reduced risk of heart disease and stroke, these kind of body composition differences may be very meaningful.  But I'm not aware of any evidence, observational or randomized, that has directly compared traditional bariatric surgery post-op management outcomes to collaborative combined management outcomes, at least not to date.
Below is a typical example of the kind of body composition change that can be accomplished with aggressive obesity medical protocols, without surgery.  So it is intriguing to try to envision what would happen if such protocols were built into the first three years of postoperative bariatric surgery management.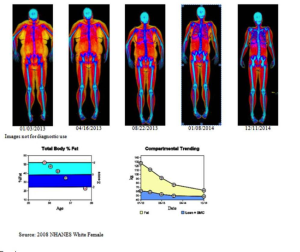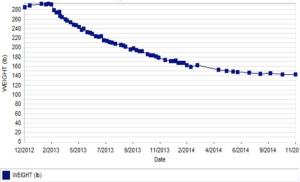 What is the value of working with an ABOM Diplomate specifically?
Because there are currently so many misunderstandings among physicians about the causes and treatment of obesity, so much harm that can be done when it is misunderstood, and so many widespread societal myths around obesity, the value of working with an ABOM Diplomate is that they have demonstrated an evidence based working knowledge of the disease of obesity that they can apply in clinical practice – an ABOM Diplomate has demonstrated an interest in being on the cutting edge of this new field of medicine, an interest in learning and following the literature, science and evidence, and a basic level of competency in the field.
About Dr. Ravasia

Dr. Debra Ravasia is an obstetrician/gynecologist with twenty years of experience in women's health. Dr. Ravasia started Women's Health Connection, PS, a comprehensive women's health/gynecology clinic in Spokane, WA in 2005.  She integrated metabolic/obesity medicine into her practice in 2008, and expanded it to include men's metabolic health in 2014.  Her practice is insurance based, and includes a team of several advanced registered nurse practitioners, another board certified obesity physician, sonographers, densitometrists, dietitians and ACSM certified trainers.  Her facility includes a moderate complexity lab, an AAAASF credentialed ambulatory surgical facility, and an exercise physiology studio on each of two sites.  In addition, she founded Ajuva, a small medical/laser aesthetics practice in 2008, and cofounded the Northwest TMS Center in 2014 for both clinical and research purposes.
Dr. Ravasia completed medical school at the University of Saskatchewan, Canada, and completed her obstetrics and gynecology residency with additional training in urogynecology at the Foothills Hospital, University of Calgary in 2000. She is board certified in Obstetrics and Gynecology in both the USA and Canada, and subspecialty board certified in Pelvic Floor Medicine and Reconstructive Surgery ("urogynecology") in the USA.  She is a Diplomate of the American Board of Obesity Medicine and an active member of the American Society of Bariatric Physicians and International Society of Clinical Densitometrists.
Dr. Ravasia has received additional training and certification in medical aesthetics, clinical densitometry, exercise medicine and medical coding.   She loves to teach, and has set up a fellowship training program for ARNPs in women's health and in metabolic/obesity medicine.  When not working Dr. Ravasia enjoys skiing and spending time with her husband and four children.