September is National Childhood Obesity Awareness Month
Obesity is rising in the United States, and our children are not excluded from this increase. According to data published in 2017, obesity in both adults and youth has increased significantly from 1999-2000 through 2015-2016. According to data reported by the National Health and Nutrition Examination Survey, obesity prevalence is 18.5% in the youth of the United States with greater occurrences noted in ages 12-19 years of age. Obesity among children can have lasting effects on their emotional, physical and social health(1).
Therefore developing strategies to identify, prevent, and manage childhood obesity is important to the health and well-being of our children. Below are a few tips that can help parents and care-givers for children who suffer from obesity:
Parents are the gateway for food into the home
For children suffering from obesity, it is important to have the better choices available in the home. It is equally important to keep poorer choices out of the home and less accessible. Focusing on providing more whole foods such as lean proteins, fruits, and vegetables as is avoiding food that comes pre-prepared in boxes, fast foods, and junk foods.(https://www.cdc.gov/healthyweight/children/index.html)
Monitor food triggers
A trigger is simply a cue that tells us to behave a certain way. We all have our own food triggers. For some of us, it is event triggers such as popcorn and a movie. For others, it may be sensory triggers such as responding to the sight and smell of food. The first step is learning to identify food triggers that your child may face. The second step is learning to create new triggers that promote greater physical and emotional health.
Make it a family affair
When weight loss becomes the goal for a child, one of the best and most effective ways to achieve weight loss is to make it a family affair. Most times when a parent changes their own eating habits, the kids tend to follow suit. Even if there is a family member that does not need to lose weight, healthful eating can lead to positive benefits for everyone in the home. Good examples of behaviors to promote positive weight changes include setting limits on portion sizes, eliminating sugary drinks, limiting screen time, and celebrating with something other than food.
Promote greater physical activity
Children need lots of play time and movement. Engaging in activities to promote greater physical activity can help balance out caloric intake and energy expenditure. Suggested activities could be a brisk walk, playing tag, playing a game outside, biking, swimming, or dancing. Also limiting screen time is important for promoting greater physical activity.
Talk with your pediatrician
Childhood obesity can be a difficult topic to discuss. If you are concerned about your child and have questions regarding a healthy weight for your child, it is an excellent idea to discuss this with your pediatrician at your next visit. Also, for further information regarding a healthy weight, click here https://www.cdc.gov/healthyweight/index.html
Resources:
(1)Hales CM, Carroll MD, Fryar CD, Ogden CL. Prevalence of obesity among adults and youth: United States, 2015–2016. NCHS data brief, no 288. Hyattsville, MD: National Center for Health Statistics. 2017.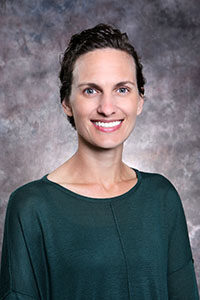 Amber Saucier is a Registered Dietitian/Nutritionist at Lafayette General Medical Center in Lafayette, Louisiana. She plays a vital role on the bariatric team by working with weight loss surgery patients on proper diet both before and after surgery. She is an ASMBS Integrated Health (IH) member and serves on the IH Multidisciplinary Committee. She is also an ASMBS Louisiana State Chapter member. Amber received a Bachelor of Science in Nutrition and Dietetics from the University of Louisiana at Lafayette in 2005, completed a postgraduate dietetic internship at Louisiana Tech University in 2006, and attained a Master of Science in Nutrition from Louisiana Tech University in 2012. She has worked with bariatric surgery patients since 2004 in her undergraduate internship through the University of Louisiana at Lafayette. In 2013, she completed necessary requirements to receive a certificate of training in Adult Weight Management.