Katherine H. Saunders, MD, DABOM is an American Board of Obesity Medicine (ABOM) Diplomate, answers questions regarding the importance of an obesity medicine physician.
What unique skill set can the obesity medicine physician bring to the bariatric surgical setting?
The obesity medicine physician specializes in all non-surgical aspects of patients' care and acts as a resource for bariatric surgeons to leverage in order to improve patient outcomes. The lifestyle modifications we focus on and the antiobesity pharmacotherapy we prescribe complement bariatric surgery – both before and after the procedure. As obesity is a complex, chronic disease involving multiple pathways, many patients are likely to require a variety of treatment strategies (behavioral interventions, medications, devices, procedures and/or surgery) in order to achieve and maintain significant weight loss. Obesity medicine physicians work with surgeons and other members of the patients' comprehensive team to coordinate this multidisciplinary approach.
What impact can the obesity medicine physician have on patient outcomes?
Modest weight loss of 5% to 10% among patients who are overweight or obese can result in a clinically significant reduction in cardiovascular disease risk. This amount of weight loss can improve many health outcomes including blood sugar, blood pressure, triglycerides, and high-density lipoprotein cholesterol. Unfortunately, diet and exercise alone are insufficient for many patients to achieve significant and sustainable weight loss because of adaptive physiologic responses, which increase appetite and reduce energy expenditure. By prescribing antiobesity medications and referring patients for devices, procedures and surgery, we are successful at improving patients' health by helping them to lose weight and maintain weight loss.
Have you had the experience of working with a bariatric surgeon?
We work very closely with the bariatric surgeons at our institution (NewYork-Presbyterian Hospital/Weill Cornell Medicine). Not only do we optimize patients medically before they undergo surgery, but we also take care of them postoperatively. When patients achieve suboptimal weight loss or regain weight following surgery, we work with them to lose additional weight. We customize dietary strategies, design exercise regimens and prescribe antiobesity pharmacotherapy to enhance the effects of surgery.
Are there any clinical findings or evidence-based research supporting the value of obesity medicine physicians and bariatric surgeons working together?
In a recent retrospective review by our group at Weill Cornell's Comprehensive Weight Control Center and physicians at Massachusetts General Hospital examining 319 patients who were prescribed antiobesity pharmacotherapy for inadequate weight loss or weight regain following bariatric surgery, more than half (54%; n = 172) of all study patients lost ≥5% (7.2 to 195.2 lbs) of their total weight with medications after surgery. This review illustrates that weight loss pharmacotherapy serves as a useful adjunct to bariatric surgery in patients with inadequate weight loss or weight regain. Although data are limited, the optimal time to initiate antiobesity pharmacotherapy appears to be when patients reach a nadir weight instead of after weight regain has occurred.
What is the value of working with an ABOM Diplomate specifically?
Despite the prevalence of overweight and obesity, there has been inadequate teaching in medical schools and insufficient training in residency programs regarding the management of patients with obesity. ABOM certification guarantees that physicians have completed a dedicated fellowship in obesity medicine and/or at least 60 credits of Continuing Medical Education (CME) in addition to passing a challenging board examination.
Reference
Stanford FC, Alfaris N, Gomez G, et al. The utility of weight loss medications after bariatric surgery for weight regain or inadequate weight loss: A multi-center study. Surg Obes Relat Dis. 2017;13(3):491-500.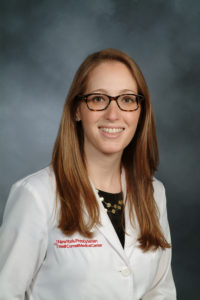 Katherine H. Saunders, MD, DABOM is an Assistant Professor of Clinical Medicine at Weill Cornell Medical College and an Assistant Attending Physician at NewYork-Presbyterian Hospital. Dr. Saunders received her undergraduate degree Phi Beta Kappa/Summa Cum Laude from Dartmouth College with a BA in Religion and Engineering. She received her medical degree from Weill Cornell Medical College, where she became a member of the Alpha Omega Alpha Honor Medical Society. She completed her internship and residency training in Internal Medicine (Primary Care) at NewYork-Presbyterian Hospital/Weill Cornell Medicine. Dr. Saunders was the first Clinical Fellow in Obesity Medicine at the Comprehensive Weight Control Center at Weill Cornell Medicine, where she trained under the supervision of Louis J. Aronne, MD, FACP, FTOS, DABOM. Dr. Saunders is a diplomate of the American Board of Internal Medicine (ABIM) and the American Board of Obesity Medicine (ABOM). She is a member of The Obesity Society (TOS). She serves on TOS's Clinical and CME Oversight Committees as well as ABOM's Journal Article Review Recertification Pathway Committee. She gives lectures and has published several peer-reviewed articles on pharmacotherapy for obesity.