Bharti Shetye, MD, an American Board of Obesity Medicine (ABOM) Diplomate, answers questions regarding the importance of an obesity medicine physician.
What unique skill set can the obesity medicine physician bring to the bariatric surgical setting?
In addressing the obesity epidemic, an alliance between an obesity medicine physician and a bariatric surgeon is a jewel in the crown. Obesity medicine physicians specialize in empowering patients with tools toward lifestyle changes, which are crucial pre- or post- bariatric surgery. Patients and the surgical team invest a lot of time, effort, energy, and money in life-changing bariatric surgical procedures. It is the obesity medicine physician, with his/her expertise, who ensures the results of this life-changing surgery translate to "life-long results." The goals of this journey are two-fold: short term goal of weight loss and the more important long-term goal of aging with good health and avoiding heart attack, stroke, kidney disease or knee replacement surgeries. Bariatric surgeries ensure short-term success; obesity medicine physicians can assist in translating that to long-term success by advocating discipline and consistency with lifestyle changes, food, exercise and behavioral modification, and continued follow up.
Some examples of the harmonious benefits of an obesity medicine physician in a bariatric surgical setting:
Managing co-morbidities in the pre-operative and post-operative time period,
Making changes to medications acutely as patients are losing weight postoperatively,
Quickly identifying, addressing and reversing long-term post-op weight regain,
Assisting patients in optimizing their metabolic profiles to ensure successful surgery & outcomes
What impact can the obesity medicine physician have on patient outcomes?
Positive. Favorable. Yin-Yang. Short term benefits to patient outcomes come from optimizing patient metabolic profiles pre-operatively, attaining pre-op recommended weight loss to decrease surgical complications, and management of medications pre and post operatively.
Long-term benefits come from the obesity medicine physician providing the expertise and fortitude to keep the patients on track with lifestyle changes. Behavioral modification, a key ingredient in long-term success – is what keeps people successful. The obesity medicine physician has the necessary skills to ensure excelling lifelong outcomes. Having a multi-disciplinary team, including an obesity medicine physician in the office for frequent follow ups and to address pre-and-post op weight loss/gain, is what makes the long-term journey successful.
Have you had the experience of working with a bariatric surgeon?
Yes. I am the medical director at Sun Coast Bariatrics – a bariatric center of excellence in the greater Tampa Bay area. Our medical team consists of our bariatric surgeon, an obesity medicine physician, a dietitian, a psychologist and excellent empathic staff. Being a part of this team is a mutually rewarding experience. Over and above the skills of an obesity medicine physician, I am now engaged effectively in care of the bariatric surgical patient – lap band fills, pre-and-post op and long-term care of patients with the intra-gastric balloons and sleeve gastrectomies. In addition, I initiated and moderate monthly support groups to keep patients focused.
What is the value of working with an ABOM Diplomate specifically?
Being an ABOM diplomate sanctifies that I keep the standards of my practice to the highest level, personally and professionally, and ensures that I am up-to-date with knowledge in the field of obesity medicine. Professional connections with certified obesity medicine physicians at local and national levels keeps me rooted and growing as a weight management specialist, keeps clinical acumen at my sharpest, and keeps me abreast regarding advances in obesity medicine.
Being certified also tells patients that this physician has gone over and above the basics of medical practice, to challenge him/herself academically to acquire additional knowledge and demonstrate proficiency in the field.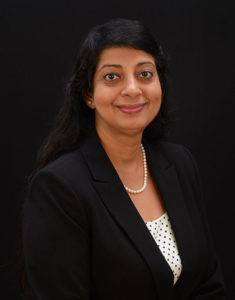 Bharti Shetye, MD (Dr. Abby) is a weight loss specialist certified by the American Board of Obesity Medicine. She is also trained as a primary care physician certified by the American Board of Internal Medicine. Dr. Abby joined Sun Coast Bariatrics, a bariatric surgical center of excellence, as the medical director in 2016. The success of her program has been showcased by the National Association of City & Health Officials (NACCHO) in Washington DC as a "national model clinic." She has presented at local and national meetings of the Obesity Medicine Association and the Southern Obesity Summit. Dr. Abby has two goals for all her patients – short term success to reach goal weight at present and long-term success to prevent the yo-yo pattern of weight loss and weight gain moving forward. She works passionately with recommendations toward diet, exercise, and lifestyle changes and behavioral modification to achieve both goals.